Make Money
Every Time You Trade
Over the past year I placed 49 trades…
and had 49 winners. Here's my secret…
"This is the first time I have had a 'strategy' and a system
to generate

consistent and regular income

…" — subscriber, Dennis J.
Some investors go a whole lifetime without discovering the secret to making money.
Thankfully, I'm not one of them. And in a few minutes, you won't be either.
You see, over the past year, I placed a trade every Wednesday… and made money every single time, no exceptions.
It was instant cash—mine to do with whatever I wanted. Pay the bills… take a vacation… worry less… and enjoy life a whole lot more.
In fact, over the years I've shared it with thousands of investors, who've done equally well…
Like Bernard A. in Camel, IN, who told me…
"All your recommendations were winners!"
Lincoln Y., who said…
"I have never lost a single penny…"
And Annapolis resident, Arnie T., who's made over $50,000 since finding out about it, and told me…
"I had been using this for almost a year
and I am living on it."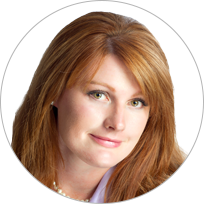 Hi, I'm Amber Hestla.
This reliable income strategy all started back during my days as a Military Intelligence Analyst (MOS Classification 35F) and an Iraq war veteran.
Fast forward a number of years from my Army days… and I've turned what started as a weekly routine to make some extra cash between paydays…
Into a proven approach that reliably helps more than a thousand people each week pocket an extra $565 in less than seven minutes of "work."
Then, the following Wednesday, they can collect another $565 in instant income once again.
To be clear, that's just an average. Some weeks they make more, some weeks they make less… but over time, it works out to exactly $565.25.
And all it takes is seven minutes every Wednesday morning. In less time than it takes to brew a pot of coffee, they've collected their money.
As one fellow I showed this to, Daniel R. in Charleston, WV, told me, "I was a little nervous doing my first [one], but once I clicked 'submit' and saw it filled, I knew it wasn't going to be hard at all."
He's collecting $300 to $500 every time he does this.
And Portland, OR, native, Richard W. said, "There is nothing like the last click of the mouse knowing that you have $2,000 to $4,000 in your account."
He collected $110,000 last year.
It's a pretty neat way to generate decent cash flow. Especially compared to how most income investors have to do it.
We don't wait around for months to collect a dividend check… or watch the calendar as it counts down to the date our CD matures.
Instead, you can pocket your own cash payout this Wednesday.
That's right… this Wednesday. No waiting.
I'm going to tell you exactly how in this letter, so please stick with me until the end.
As we get started, just keep this in mind: This isn't your typical investment approach… and I'm not your typical stock jockey.
I'm a 33-year-old mother of two—and I live on an 80-acre ranch in Wyoming—nowhere near Wall Street.
Here's the view from my "office."
Like I said, I'm a former Military Intelligence Analyst (MOS Classification 35F) and an Iraq war veteran.
In military jargon, my job was to "analyze strategic and tactical intelligence about enemy forces and potential battle areas."
In plain English, I spent 14 hours a day trying to make sure other soldiers didn't get blown apart by roadside bombs.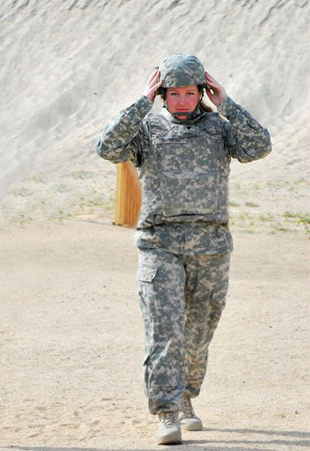 Saving your buddies' lives is a reward that you can never get from trading. But the work is so stressful that you can only take it for a few years before burning out.
So while I was still on my tour of duty in Iraq, I started dabbling in the market. It was a good use of my analytical skills and I figured it might turn into a good postwar career for me.
Pretty soon, I was making more money than I ever did as an Army officer.
After retiring from the service, I began blogging about my trades. Others started picking up on my work… and my research was featured in publications like Technical Analysis of Stocks & Commodities and Stocks, Futures & Options.
Eventually, I was contacted by Profitable Trading, which distributes research like mine to a national audience. We launched Income Trader together five years ago, and it quickly became their most popular service.
Now, I'm helping other investors make money the same way I do… by sharing my trades with them.
The way I see it, why not? I'm already doing the research for my own account… so why not make a business out of it?
There's plenty of room in these trades for everyone. Plus I get a kick out of seeing people make money off my work. And the fees I receive have created a nice bonus income stream for me.
Now, over one thousand regular men and women are doing this alongside me.
Like I said, they have all had the opportunity to collect $565 a week
But that's just the average. Some of them are making much more…
Dan B. from San Carlos, CA, makes close to $5,000 per month.
Bill K. of Ladera Ranch, CA, averages about $14,000 a month.
Brad C. of Memphis, TN makes even more—about $30,000 per month.
Albert Q. from Miami, FL has racked up a total gain of $60,000.
And Richard K. of Dallas, TX has made $150,000 doing this with me.
Look, I want you to know that these are all just regular folks. Most of them had never followed a strategy like this one before in their lives.
But by doing exactly what I tell them, every Wednesday, they are now making enough money to change everything.
And today you have the chance to join them.
But before you jump in, I need to point out that my strategy isn't right for everyone. So, I'd like to ask you three simple questions, just to make sure that it's a good fit for you.
Question #1:
Are You Looking for Extra Income?
This may seem obvious, but it's actually an important question.
You see, the key word here is "income." A lot of people are just looking for a quick windfall. They're hoping to make a small bet on a hot stock and change their life in one shot.
That's not me. My approach is much more conservative… a little dull even.
We're not looking to hit home runs at Income Trader. We're looking to collect five hundred or a thousand bucks every week… do it again and again… and end up with a growing pile of cash.
You see, we're traders… but with one big difference…
We collect our profit upfront—at the beginning of the trade—and we get to keep the money we collect no matter what.
So, we know exactly how much we're receiving—to the penny—before we even enter our order.
We don't buy and sell stocks like regular investors. What we do is safer than that… and it's faster, too.
Let me give you a quick example…
In the middle of a flood of bad press generated when United Airlines dragged a passenger off a flight, Delta Airlines (NYSE: DAL) announced a new customer-friendly policy.
They started offering passengers up to $2,000 to give up their seats on overbooked flights—that's 2 ½ times more than they offered before.
Even though Wall Street expected Delta's earnings to take a hit, the company actually beat expectations by $0.02 per share… and I spotted an excellent opportunity for quick income.
So I recommended a simple trade on Delta that gave us an instant $360 without buying a single share of stock.
This instant payment wasn't a quarterly dividend or a one-time special distribution. And investors who received it did not even have to own shares of Delta.
Rather, it was a completely different kind of payment that most investors never take advantage of.
You could have gotten into Delta the regular way—by buying shares—and you'd have made about 18% in the next six months.
That's not bad, of course. Any gain is a good thing in my book.
But our approach made us 4.3% in just 29 days—good for a 53.9% annualized gain. And then we were ready to do it all over again.
Right after our Delta trade, I showed my clients how to receive another payment from U.S. Silica Holdings (NYSE: SLCA).
U.S. Silica produces a special sort of sand used in oil fracking. When oil prices collapsed, demand for silica dropped, and SLCA shares crashed 82%. Management took a hard look at operations and cut costs by $60 million a year.
Oil prices have since rebounded… and after trimming the fat, SLCA can now operate in the black, even when oil is under $50 a barrel.
Just like with Delta, you could have bought SLCA directly and hoped for the best.
But investors who prefer to collect cash immediately—instead of tying up funds in a stock for years—pocketed $400… and generated a 100.6% annualized return.
Compare that to SLCA stockholders, who have actually lost money on the stock since we made our profitable trade on it.
Of course, these aren't the only examples. Just take a look at some of the consistent, regular profits my followers have been able to rack up…
The instant cash these people are getting isn't a loan, an advance, or anything like that. It's completely different… a payment that they keep regardless of what happens next.
Gerry N. from Pensacola, Florida, says he makes "$2,000 to $3,500 a month."
Patrick Z. of Two Rivers, Wisconsin, generates more than $2,000 per month.
And Leslie H. in New Jersey tells me she averages "$2,000 to $3,000" every month.
Perfect for Income Investors
(or Anyone Looking for Steady Cash)
Since these payments come in like clockwork, Income Trader is perfect for anyone who wants reliable income. Because, in all honesty, there aren't a lot of good options out there for income-focused investors.
Stock yields are in the toilet right now, less than half what they used to be…
With the S&P 500 yielding less than 2%, you're not even keeping up with inflation.
Even classic blue chips like Coca-Cola and General Electric yield just a few percent.
Bonds are barely any better. Yields on 20-year Treasuries have been stuck in the 2% range for years now. CDs rates are incredibly low, too.
Even high-yield "junk" bonds are paying just 5.7%. Not worth the risk, if you ask me.
Don't get me wrong… if you can get by on your dividends or interest, good for you.
I'm simply pointing out that market conditions have made it very difficult to produce a decent income the traditional way.
That's why I've joined the 1% of investors who do something entirely different to generate more income. We do it any time we want some extra cash, and we never have to worry about dividend cuts or low yields.
In fact, you can make twice as much on a stock in one day than you would collect in dividends over an entire year.
Just like when I collected $1,590 in instant cash on these four back-to-back trades in under a month…
Trade No. 1:
Deckers Outdoor (NYSE: DECK) is a shoe company whose stock has grown steadily. But when I saw a mistake on an earnings forecast, I spied an opportunity to cash in.
If you were there with me, you could have made $490 overnight—without buying a single share of DECK.
Trade No. 2:
Restoration Hardware (NYSE: RH) sells luxury furniture. The day after I recommended DECK, I noticed this second opportunity for investors to collect overnight income.
Anyone who followed along with my trade could have pocketed an instant $400… and could have cashed out in just 15 days—for a spectacular 93.6% annualized gain.
The great thing is, you could've repeated this trade 24 times throughout the year and generated $9,600 in income.
But we weren't done collecting cash that month, because we still had two more winners in line…
Trade No. 3:
Wynn Resorts (NASDAQ: WYNN) operates high-end hotels and casinos. Wynn had performed well, but a selloff opened the door for a short-term opportunity.
Investors who took advantage of this trade could grab an instant payment of $400—without buying WYNN stock or collecting a dividend.
Trade No. 4:
CarMax (NYSE: KMX) is the largest used-car dealer in the United States. Earlier this year, while headlines claimed that used-car prices were plunging, I took a deeper look at the data and saw a different story.
I then showed investors how to collect an immediate $300 on this gap between rumor and reality.
Add them all up, and we used short-term opportunities to pocket a total of $1,590—in just over three weeks.
The Same Thing Happened to Us
the Next Month, Too…
And just to be clear, this is not an isolated example. Because the same thing happened to us the next month, too, when we were able to collect another $1,860 on four more trades.
United Rentals (NYSE: URI) is the largest equipment rental company in North America. Its fate is tied to industries that use heavy equipment. And those industries were humming when I spotted an instant-cash opportunity.
Investors who followed my simple instructions could grab $300 overnight.
Then, the following week, I recommended another play on Deckers for another $490 instant cash opportunity.
Just seven days after that, my readers could have made a fast $570 on Andeavor (NYSE: ANDV), an oil refiner.
Then, they had the opportunity to close out the month by jumping into Wynn Resorts once again—pocketing an immediate $500.
That month they racked up $1,860 in cash.
We string together winners like this again and again.
In fact, since we first started doing these trades in 2013… week after week… month after month… my followers have pocketed hundreds of dollars a pop, adding up to many thousands.
Gerry N. from Pensacola says he made $19,794 in a year.
Stanley B. of Sebring, Florida, says he has "averaged $1,900 per month… anywhere from $214 to $2,154 per trade."
William B. of Wichita tells us, "I have averaged $3,000 to $5,000 per month from your recommendations. In January… I earned $15,513.89."
So by now you may be wondering… if we're not buying and selling stocks like regular investors… what exactly are we doing?
That leads me to the next crucial question…
Question #2:
Are You Willing to Use Options?
I know the word "options" makes some people uneasy. I get it. I was the same way once.
When I started trading, everybody warned me that options were dangerous and that I should stay away.
Of course, hammers, knives, and a hundred other useful tools can be dangerous if used the wrong way. But use them the right way, and they make life a whole lot easier.
The truth is, options can actually make your portfolio safer. In fact, with the particular options strategy I use in Income Trader, the odds of success are extremely high.
It's no wonder Warren Buffett does it, too. Buffett—arguably the greatest investor alive—used this strategy to make $7.5 million on Coca-Cola. Then he used it again to make several million dollars with Burlington Northern Santa Fe.
As I said, if you're worried about using options, I understand why.
But after helping thousands of folks use them—people who are probably a lot like you—I can say that they're not nearly as difficult or risky as you might think.
Most of my new subscribers had never traded options this way before… and they are now making thousands… even tens of thousands of dollars in extra income. Every month.
Aaron L. of Clayton, California, sent me some feedback I've seen time and time again when he said:
"This is the first time I have used options put selling. It was very easy to understand especially after you showed how to generate income."
Chris L. of York, Pennsylvania, says:
"I like how simple this is."
Stanley B. of Sebring, Florida, says:
"It was easy to learn."
Roger B. of Coatesville, Pennsylvania, says it's as:
"Easy as pie."
And Albert Q. of Miami, Florida, says,
"Your explanations are very simple, concise, and to the point."
Albert has made more than $60,000 using Income Trader—and there's no reason on Earth you can't do the same. Let's get started…
My Simple Two-Step Plan
First off, let's be clear about one thing: We sell options, we don't buy them.
And it's easy. Every trade has two phases—the Cash Phase and the Countdown Phase. Here's how it works…
Let's say you have a friend. He likes to invest, but he's the nervous type. Even though he sticks to solid blue chips like Coca-Cola, he's always worried their share prices will drop.
So, he comes to you with an offer.
He asks if you'd be willing to buy his Coca-Cola stock if the price drops 10% over the next two months.
It sounds like a pretty good deal to you. You wouldn't mind getting a company like Coca-Cola at a 10% discount. So, you tell him you'll seriously consider it.
He's relieved but wants to make sure you come through. So, he sweetens the deal.
He says that, if you agree to his offer, he'll pay you $300 on the spot.
In other words, if you agree to buy his Coca-Cola stock if the price drops 10% over the next two months, he'll pay you $300 today.
What's more, even if Coca-Cola's share price doesn't end up dropping, you still get to keep the $300.
You can't believe your luck. What a deal! You agree, and he pays you $300.
That's Phase 1 of the trade—the Cash Phase.
As you can see, it's pretty straightforward.
You enter into an agreement and collect a payment up front from another investor.
Now let's look at Phase 2—the Countdown Phase…
This phase starts as soon as you've collected your instant income.
You've agreed to buy your friend's Coca-Cola shares at a discount if the price falls 10% over the next two months. And he has paid you $300 for your promise.
Now, all that's left to do is wait to see where Coca-Cola's price is in two months, on the day your agreement expires.
If Coca-Cola's share price rises, you're in luck. You get to keep the $300, and that's the end of it.
If Coca-Cola's share price stays flat, you're also in luck. Once again, you're not obligated to do anything. You simply keep your $300 and go about your business.
Even if the stock falls 9.99%, you're still OK. You keep your $300 and that's that.
Now… if Coca-Cola's share price does fall 10% or more, it's true that you're obligated to buy your friend's shares. But you liked Coca-Cola anyway. And now you get it at a big discount. Plus you get to keep the $300 your friend paid you.
That, in a nutshell, is how my system works.
You collect payment up front from whoever you sell the option to. You keep the premium and move onto the next trade.
Let me show you a quick real-life example from one of our trades…
This past August, Deckers Outdoor looked undervalued to me at $64 per share. Its 14.2 P/E ratio was 25% below the industry average.
Looking at the company's expected earnings, I calculated that $76 per share was a more reasonable price.
This meant that DECK was a bargain, selling at a $12-per-share discount from where it should be. Buying shares outright would've been a great deal.
But I knew that my traders and I could get an even better deal.
We could collect instant income in Phase 1 of my process. Then, if the share price stayed flat or went up in Phase 2, we wouldn't have to do anything. We could just move on to the next trade.
If the price dropped, we could buy a great company at a big discount. So, I told my readers to sell an option with a strike price of $57.50 that was expiring on September 15, a month away.
Here's how the trade played out…
In Phase 1, we collected our payment up front. In this case, it was $490… and we pocketed that money immediately.
Then, over the next 36 days in Phase 2, DECK continued to hover around $64. On September 15, the day our option expired, the stock closed at $63.80—about 10% higher than the $57.50 strike price.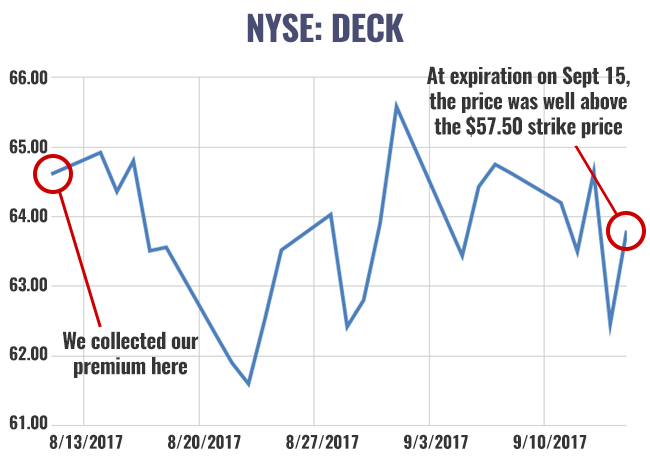 So, we didn't have to buy the stock. We walked away with our premium and were on to the next opportunity. Simple as that.
By the way, all the figures I'm using today are for 10 contracts for each trade. You can trade just one contract if you want to start small, or 20 or 30 if you have a bigger bankroll.
It's completely up to you. Just remember that, if the share price does drop below the strike price, you're obligated to buy 100 shares for every contract sold.
So, if you sold one DECK contract at a $57.50 strike price, you'd have to buy 100 shares of DECK at $57.50 per share.
That's why I only trade options on quality stocks that I want to own anyway.
That way, if I have to buy shares, I'm happy to get them at a discount.
Not that it happens often…
So far, we've entered 222 trades, but we've only had to buy the stock 21 times.
And in 10 of those cases, we STILL ended up making a profit. Because they were quality companies, the share price went back up shortly after we bought them, letting us exit with a gain.
A good example of this was our trade on Weight Watchers (NYSE: WTW)…
We collected a payment up front and agreed to buy shares if WTW's share price fell from $26.30 to below $21 when our option expired.
Well, as you can see, when December 18 arrived, the share price had dipped a penny below $21—closing at $20.99.
That means we had to buy the stock at $21.
But here's the thing… I recommended WTW not only because it was a solid stock, but also because Oprah Winfrey had recently plugged it on Twitter.
Not only that, she actually purchased 10% of the company in October. And as you likely know… everything she touches turns to gold.
When Oprah signed on, analysts increased their earnings estimates 40% for the coming year and 25% for the one after that.
That's why I recommended WTW to begin with. I knew it was a great opportunity to…
Collect a nice payment immediately, and…
If the stock fell in the short term… buy it at a 21.5% discount.
As it turned out, Weight Watchers was a great buy, especially at the discounted price we paid for it.
Just as I anticipated, the stock soared after Oprah unveiled her new Weight Watchers ads a few weeks later. Shares jumped 27%… and we sold our shares on December 31 for $23.61.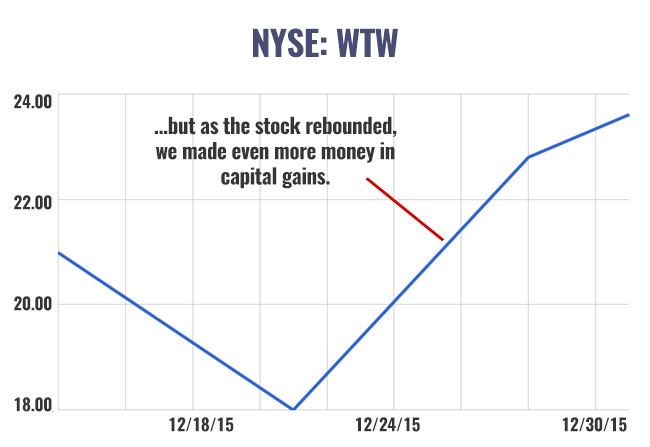 In all, we spent only 28 days in the trade and earned 10.6%—a 137.8% annualized return.
We're Winning on 90.9% of Our Trades
Now, I realize this might be a lot of information to digest. And some of it may sound too good to be true.
But I have concrete numbers backing me up: Since we launched Income Trader in 2013, we've closed 219 trades… and we made money on 199 of them.
That's a 90.9% win rate.
Readers who followed my weekly trades and sold 10 contracts each time have collected nearly $2,500 every month.
But that's just on 10 contracts per trade. The upside is unlimited because you can trade as many contracts as you want.
This has translated into hundreds of thousands of dollars for some investors…
Richard K. from Dallas says, "I have increased my account by $150,000. Keep the recommendations coming!"
I love hearing how much money people are making with my work. Especially since they're doing it with such little risk.
Risk aversion is in my DNA at this point. It has been my Number 1 priority going back to my days in Iraq. Remember, my job was to help my fellow soldiers avoid roadside bombs, ambushes, and other life-threatening situations.
I'm not allowed to go into specifics, but I'm proud to say that my analysis helped save lives.
Fortunately, risk management is no longer a life or death matter for me. But I still know how important your hard-earned nest egg is… and I never forget it.
That's one reason why I'm such an advocate of trading this way. It generates income for you no matter what happens in the stock market.
That's something to think about if you're worried about how long this bull market is going to last.
It's already about a decade old, the longest uptrend since the 1950s. We are well overdue for a bear market. And if the next one we get is anything like what we saw in 2008, it could crush a lot of dreams.
And that's another advantage of Income Trader. You're never locked into a falling market.
We're In and Out In 69 Days
In fact, our trades only last an average of 69 days. And when you eliminate the handful of trades where we had to buy the stock, our holding period drops to just 49 days.
Compare that to locking your money up for years in CDs… bonds… or buy-and-hold mutual funds.
This limited exposure gives us a huge advantage. When the stock market tanks and long-term investors hang on and keep losing… we can simply open a new option contract, and keep on profiting.
In fact, through every up and down of the past few years, we've collected money week-in and week-out.
And our approach is cranking out payments as steadily as ever. Over the past few months, my picks have continued to deliver instant income—at much less risk than following the stock market.
In fact, we just wrapped up four trades in a recent month that gave us annualized gains of 27.4%, 41%, 49.4%, and 75.2%.
And I'll be revealing my newest trade on Wednesday in a private email to the select group of traders who follow my research.
I'll include all the details for the trade…
The name of the stock… the specific option to sell… how big the payment will be… the annualized gain projection… everything.
I can put you on that email list so that you can jump on this opportunity, too.
You'll be able to collect several hundred dollars—and likely more—immediately.
There's still time for you to get in on it—but first, I need to ask my final question…
Question #3:
Do You Have $15,000 to Invest?
You don't need a ton of money to trade with me, but you have to start with something.
A good rule of thumb is to have enough in your account to buy 100 shares of whatever stock we're using to generate our instant cash.
That way, in the rare event you have to buy the stock, you have enough money to buy the shares.
So I recommend you have at least $15,000 in your brokerage account to begin with.
To be clear, you don't have to tie up all that money when you open a trade. You only have to make a "down payment" of about 20%.
For example, let's say we're trading one contract with a strike price of $50. If we have to buy the shares, we'll have to buy 100 shares for $50 each, a total of $5,000.
But you don't have to set aside the entire $5,000 up front. You only have to put up $1,000 as your down payment.
Once the trade is over, your broker releases its hold on the down payment, and it goes right back into your trading account… where you can use it for your next trade.
And that's exactly what we do. We've had stretches where we've used the same down payment for months at a time, "recycling" it again and again.
Three "Yes" Answers and You're
Good to Go
Now that my three questions are out of the way, I hope you can see how easy it is to start making money this way.
There's no reason you can't begin collecting cash week-in and week-out… starting with our next trade.
Executing these trades takes just one more step than a regular stock trade. If you invest online, it's just a matter of making one extra click.
It takes most people around seven minutes to read my recommendation and enter the trade—and that includes folks who have never traded this way in their lives.
I asked my readers if any of them had a hard time getting started. Here's what they told me:
"This is my first time trading options. Very easy and I love it."
"The process is very easy to follow."
"Very easy—The explanations have been great."
If you're ready to join these people and make the same money they do, I'd like to add you to my private email list. That way, you'll be able to take advantage of my next trade, coming this Wednesday.
To get on the distribution list, all you have to do is sign up my Income Trader advisory service.
Then, every Wednesday, I'll send another private email detailing my latest trade.
It may be on an energy firm… a retailer… a tech outfit… the specific industry doesn't really matter.
Whatever it is, you'll collect cash immediately. And you'll keep that money, no matter what the stock does.
You won't have to wade through a lot of verbiage.
In every bulletin, I spell out why I like the company and the best way to generate instant cash from it.
As you'll see, I've come up with several unique ways to analyze stocks that you won't see other people using.
Standard Wall Street analysts use standard metrics—P/E ratios, cash flow analysis, insider buying, etc. And while these are all great tools, mine work better for me.
Take timing—a critical factor in every options trade.
I wasn't happy with the existing timing indicators, so I created my own. It helps me determine the precise time to zero in on a stock when I want to trade an option on it.
As my 90.9% win rate makes clear, it's worked out well. I even received an award from the Market Technicians Association in recognition of the indicator's accuracy.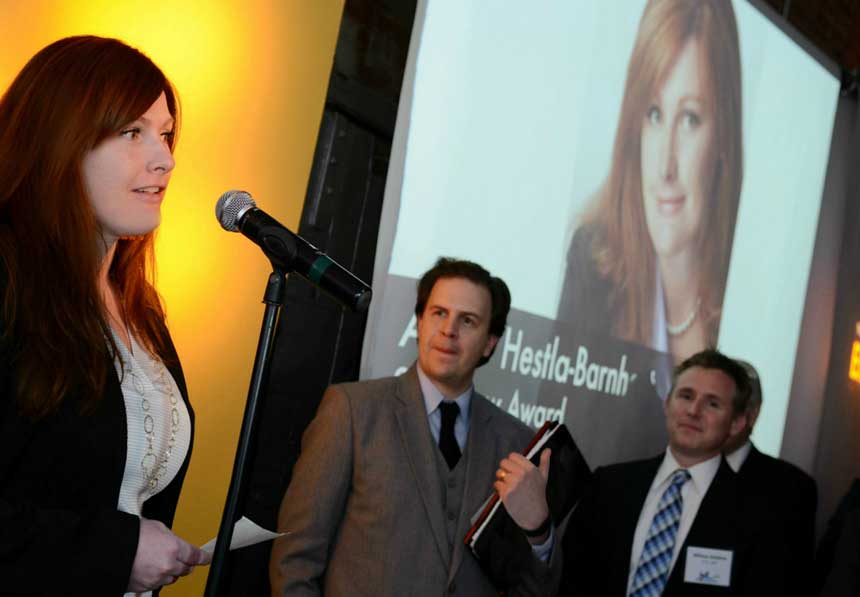 And that's just one tool in my belt. I have five others, and they all have to be flashing green before I OK a trade.
At that point, I give you the exact plan of action: which contract to sell, the price to set, and your projected outcome down to the penny.
I'll Never Leave You Wondering What to Do Next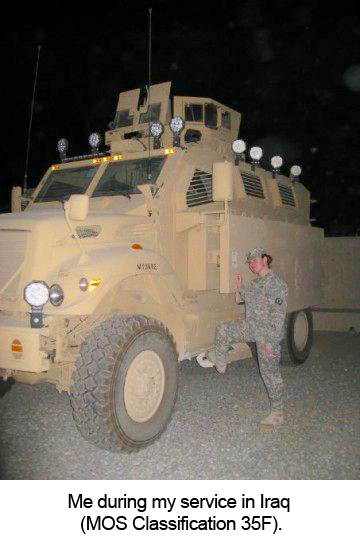 I stick with you throughout the trade, day by day if necessary. And I'll alert you any time you need to take action.
It's simply not in my nature to leave people behind.
That was drilled into me in the Army. No matter what happens, you don't leave anyone to fend for him or herself.
Truth is, I apply many of the lessons I learned in the Army to trading.
Risk aversion… discipline… not letting my emotions affect me…
I take out all the guesswork so you can sit back and watch as thousands of dollars stream into your account—just like my Income Trader readers are doing.
"I have utilized your strategy and the results have been amazing: I have generated over $60,000 in pure profits."—Albert Q., Miami, Florida
"I have been able to generate at least $3,000 per month—and have made well over $10,000 so far. I am so glad I found Amber. I have made money on every one of her recommendations."—Michael M., Huntington Beach, California
"I have increased my net income to around $1,200/week. I have made over $10,000 in a short time."—Dan B., San Carlos, California
Our entire goal is to help regular investors like these generate extra income from their portfolios, and that's exactly what we've been doing.
"I'm generating about $1,000 a month for retirement in 10 years."—Susan W., Santa Cruz, California
"I made $13,965 in two months. Great, successful service."—James S., Otis Orchards, Washington
"I generate about $30,000 per month. I made my investment back in the first 30 days. You're a jewel!"—Brad C., Memphis, Tennessee
Now I'd like to help you join these folks, starting immediately.
The minute you sign up for Income Trader, I'll add you to my private email list. I'll send you my very next trade and show you exactly how to execute it.
But that's just the start. I've also prepared this series of free reports to get you going…

Special Report #1: Profitable Trading's Options 101
This guide is filled with everything you need to know to get started. It explains the terminology, principles, and strategies of options trading, so you're ready to collect your first cash payment on Day One.
Special Report #2: How to Generate Instant Income Selling Puts
Here I summarize the key lessons I've learned as an options trader, including the No. 1 key to picking winners. I also walk you through selling an option step by step. You'll learn how to open a trade… how to close it… how to pick the right stock to trade on… everything.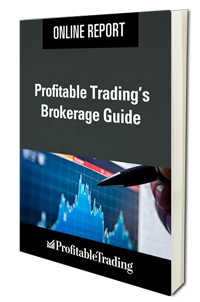 Special Report #3: Profitable Trading's Brokerage Guide
In this third report, I rate the nine most popular online options brokers. These are all great places to begin, but virtually every brokerage house now allows options trading, so chances are excellent that you'll be able to use your existing brokerage.
You'll get all three of these reports, with all the information you need to start making money immediately, the minute you sign up for Income Trader.
An Extraordinary Opportunity
At this point, you're likely asking yourself how much it costs to become a member of Income Trader. The regular price for one year of my service is $3,000.
I know that's not cheap, but remember that Income Trader is Profitable Trading's most advanced service. It also has the best track record and generates the most positive feedback.
We've heard from hundreds of subscribers who have made enough to pay for their subscription cost many times over.
Jim Q. from Pennsylvania says, "[Your service] has paid for itself at least 100 times over—that's no typo."
The money some people are making with Income Trader is astounding…
Carter B., of Clemmons, North Carolina, says he makes about $30,000 per year. He bought himself a Porsche with his new cash.
Albert Q. from Miami says, "I have generated over $60,000 in pure profits since I joined your service."
And Bill P. of Franklin Lakes, New Jersey, says "I've used your methodology and made up to $100,000 per month. Last month, I made $26,000."
You can bet that these guys are happy to spend $3,000 a year to keep this money flowing.
But today you won't even have to pay that small amount…
Join Us Today and You'll Lock In
a 33% Discount Forever
Look, I realize that no matter how much you stand to make, $3,000 is a significant cost for some people to get started.
So, my publisher is giving a limited-time opportunity for new clients to join Income Trader at a deeply discounted rate.
That means you'll get every benefit of Income Trader membership (including the package of research reports) for $1,050 off the regular price.
That brings the cost down to just $1,950 for a full year's service—a drop in the bucket compared to the $29,577 our members are on track to generate in the next 12 months.
Another thing—my publisher has agreed to lock in this discount for as you remain a member.
In other words, as long as you want to get Income Trader, your cost will never increase—no matter how many new features, courses, and bonuses we add in the future.
On top of this locked-in discount, I'm also going to give you two extraordinary guarantees…
Guarantee #1: Try Income Trader
Completely Risk-Free for 30 Days
Come try out Income Trader for 30 days and let me show you first-hand the kind of income that's possible when you trade options the way I do.
If you decide I'm wrong and this service isn't for you, simply cancel at any time during those first 30 days and we'll refund 100% of your money.
You don't even need to give me a reason. All I ask is that you give Income Trader a fair and honest try.
And of course, any reports or alerts you've benefited from are yours to keep, with my compliments.
But my guarantee doesn't stop there.
To make sure you're as confident as possible in your decision to join me for the long haul, you're also covered by…
Guarantee #2: You'll Have the Chance to
Make Money 90% of the Time…
Or I'll Work for Free
My thinking here is simple…
We've been making money on 90% of our trades for five years now… and there's no reason that should change just because you're joining us.
At 10 contracts per trade, you should be able to average $565 per week—more than $100 every day the markets are open. But the precise figure isn't important. What's important is that you're happy with your results.
So, here's the deal…
Even if only 89% of the trades I recommend turn out to be winners… just let me know… and I'll extend your membership for another year at no charge.
I won't ask to see your trading statements. Or any other documentation, for that matter.
To make things easy, I'm simply going to guarantee that 90% of the trades I recommend will give you the chance to make money. And we can easily track that in our portfolio.
The point is, I'm trying to take every bit of risk out of this venture for you.
Now it's decision time…
You can choose to join the 1,000+ men and women who are collecting money alongside me… and make the same money they do. Or you can walk away and never know what could have been.
This is one of those times you have to see it for yourself. And you don't have to risk a cent to find out. So make your move now.
Thank you for reading, and I hope to see you inside Income Trader!
Good trading!
Amber Hestla
Chief Investment Strategist
Income Trader