Save 50% TODAY!

Start Here to Make $287,000 on the Trump Impeachment Trade
One 5-minute trade could make you $287,000. But you need to place it NOW
Congratulations on moving quickly on this opportunity.
This is a play on the impeachment of a president—an exceedingly rare event.
Right now the smart money on the electronic betting markets is telling us that there is a 41% chance that Donald Trump will be impeached before his first term is out.
If the stock market reacts like it did the only other time a president was forced out of office, this trade could turn $10,000 into $287,000.
And you can get started for just $167. Wall Street insiders call this unusual situation an "asymmetric trade." If you lose, your loss is tiny. But if you win, your gain is massive.
The key here is that Trump doesn't even have to leave office for you to make money. This trade is designed to work even if he just gets impeached—whether or not he is forced out of the White House.
If Trump's enemies do succeed in pushing him out of office … and if the reaction is remotely similar to the only other time a president resigned… we could see a market crashing in panic. But instead of watching your net worth evaporate, you could walk away with $287,000 on this single trade.
The Clock Is Ticking…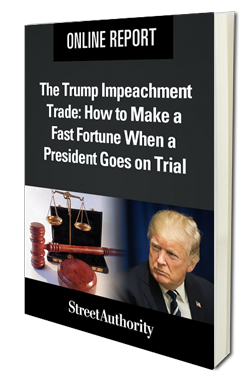 Now that Democrats have seized control of Congress and likelihood of impeachment is growing… the time to place the Trump Impeachment Trade and secure this cheap insurance against disaster is NOW.
It's all spelled out in this new report—and it's yours free with a no-risk trial membership to Profit Amplifier…
The Trump Impeachment Trade: How to Make a Fast Fortune When a President Goes On Trial
You'll see exactly what steps to take that could let you walk away with a fortune. It identifies the crucial security that is the absolute best way to play this situation. And you'll get step-by-step instructions what to do and when to do it. (This is crucial.)
It's free with a no-obligation look at Profit Amplifier, where you'll see how to turn modest 5% or 10% stock moves into gains of 50%, 100%, or more in a matter of days or weeks. Some of our trades move 13x times more than the stock moves itself.
Each week, I'll make a new recommendation and walk you through it step by step. It takes most people less than five minutes to place each trade.
You'll be using the same strategy we've used to turn both rising and falling stocks into gains of 50.6% in just eight days.
We recently closed out a trade that earned 178% in a little over a month…
Another trade, on January 4, paid out 529%…
And on February 2, after exactly two weeks, another trade paid out 1,172%.
These are real trade recommendations with real profits… and they came in fast.
Bonus Reports if You Join Today!
Join us today and you'll also have instant access to three more crucial reports we have created for new members.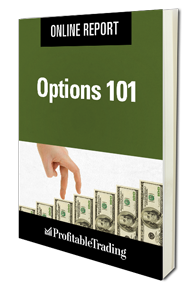 Bonus Report #1: Options 101: The 15-Minute Starter's Guide to Options Trading
This exclusive guide is filled with everything you need to start trading with Profit Amplifier. I'll show you in plain English exactly how to:
Buy stocks below their market price…
Generate a steady stream of "found income" from your stock holdings…
How to recognize which options amplify your gains the most…
Protect yourself from losing money on your stocks when share prices drop.
Even if you have never traded options before, you'll find everything you need to know here.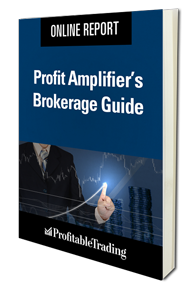 Bonus Report #2: Profit Amplifier's Brokerage Guide
Before you can trade options, you need clearance from your broker. If you don't already have it, this walks you through the process, showing you exactly what to do. It's easy… and may even save you some cash. Because this report also reveals our exclusive group of online brokers with excellent rates and service. Even if you already have an account, your current broker could be overcharging you… and it never hurts to know all your options.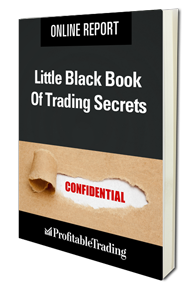 Bonus Report #3 Little Black Book of Trading Secrets
Here I reveal the exact process I go through to find a trade and the crucial factors that make any trade a winner.
This checklist helps me make money consistently, no matter what the markets are doing.
You won't find this information anywhere else, at any price… And it's yours free along with all these other reports when you join Profit Amplifier today.
Each of these reports would typically cost you $99. But with today's offer, they're completely FREE of charge.
Unadvertised BONUS: As a new member of Profit Amplifier you'll receive a Private VIP invitation to an exclusive world premiere event. Inside this event, you'll discover the only legal market hack that actually works. As a VIP pass holder, you'll also receive two additional perks (membership does have its privileges).
You'll get a personal copy of our "Insider Report which contains 10 stocks that have been handpicked and hacked by the mastermind that created this system and used it to walk away with an extra $37,000 last year alone.
You'll also receive our "Market Hack Master List" of over 200 stocks that we've hacked… as well as the chance to submit up to 3 of your own stocks for us to hack. But this list is limited to the first 200 stocks submitted… join now and submit your stocks before it's too late. (Details on how to submit your stocks for "hacking" will be on the following page after your order has been submitted.)
Recap Of Your New-Member Privileges…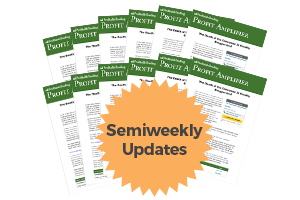 Profit Amplifier Weekly Updates
Every week, I'll send you a new way to give your portfolio an instant boost. Each recommendation includes a full analysis of the opportunity, with specific instructions on how I plan to take advantage of the situation. I do all the work and research for you, so all you have to do is place the trade.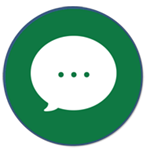 Special Alerts (when necessary)
Trading opportunities don't appear on a fixed schedule. So when I find an irresistible situation between issues, I'll fire off a special alert to your inbox immediately. These quick-decision trades are often the most lucrative of all.
Members-Only Website
As soon as you join, you'll set up a password to my private website. Here you'll be able to access all of my research, including every special alert I've issued, as well our entire library of investing reports.
VIP Customer Service
As a Profit Amplifier member, you also become part of our Profitable Trading VIP community. And we make sure you are treated accordingly. That means you get direct access to me by email, as well as a dedicated Customer Service team and our Client Care Manager, Nate Equall, who's here to help you with every aspect of your membership and to answer any questions you may have…
Join Now at Half Price… and ZERO Risk!
The regular price of a one-year Profit Amplifier membership is $1,994.
But when you join today you'll get a full year of Profit Amplifier—and everything else I've laid out for you here—for only $997—50% off the normal rate.
This is the first, last, and only time we'll offer Profit Amplifier at this price. And it ends in five days.
Plus… you have ZERO risk with Profit Amplifier. You're covered by our 100% Satisfaction Guarantee.
If for any reason you're not 100% delighted, simply contact us within 30 days and you will be issued a full refund.
No fine print, no hoops to jump through… guaranteed. And as a thank you for giving Profit Amplifier a fair try, all the reports are yours to keep.
This opportunity is only available for the next five days. After that this offer will be pulled down.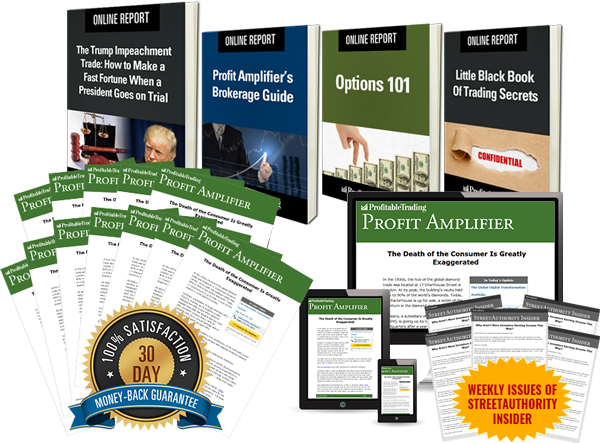 Join Profit Amplifier and Place Your Trump Impeachment Trade Today!
Fill out the short form below for instant access to everything.